Over 2,170 people, including 10 Pastors & Ministers and 17 Priests, were in attendance and stood for life on the morning of Monday, December 5th outside Germantown Reproductive Health Services.  This memorial event marked the termination of 720 pregnancies in the one year since Leroy Carhart has been in Germantown.  Because of our presence, three out of four mothers scheduled for abortions that day, chose life for their babies!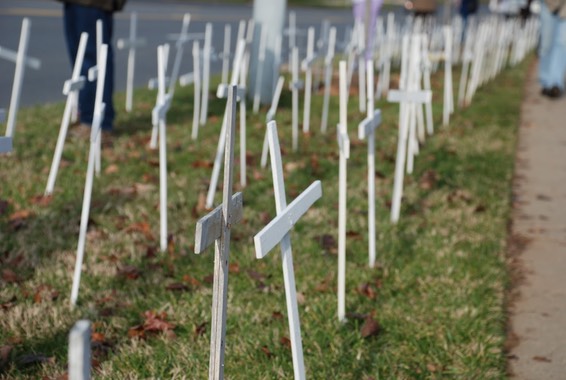 As evidence of the magnitude of the deaths, 720 crosses were placed on the side of the street by the Knights of Columbus, one for each of the babies aborted by Leroy Carhart in Germantown just this past year alone.
The tremendous local turnout was a true sign of prayerful unity. Both sides of Wisteria Drive were lined men, women, and children. With schools allowing students to miss classes in order to attend, young and old alike were holding signs, praying, all with car horns honking for life as they drove by.
Speakers at the event included; Dr. Grace Morrison, Vitae Foundation, Chuck Donovan, Susan B. Anthony List, Michael Martelli, Maryland Coalition for Life, Christa Lopiccolo, Archdiocese of Washington, DC, Fr. Marcel Guarnizo, St. John Neumann Parish, Pastor Charlie Baile, Shady Grove Presbyterian Church, and Fr. Carlos Benitez, Mother Seton Parish. See videos of each speaker.
Below is a slide show and video of the event.