WEATHER WATCH:  DUE TO POTENTIAL POOR WEATHER CONDITIONS FOR THIS WEEKEND, THIS WEBSITE WILL BE UPDATED AT 9:00 AM SUNDAY DECEMBER 8TH WITH A RALLY/WALK CANCELLATION DECISION.
Mark your calendar; Sunday December 8th, 2013, 2:00pm for a Memorial Rally and Walk for Life marking three years too many of Late-Term Abortions in Germantown. The Rally Start point is the regular Monday Morning prayer location.  ** MORE INFORMATION AND DOWNLOAD RALLY FLYER HERE **

Carhart Botches Third (!!) Late-term Abortion This Year, Patient Receives Emergency Surgery
Germantown, MD – For the third time this year, one of LeRoy Carhart's abortion patients were rushed to Shady Grove Hospital (SGH) in Maryland for emergency treatment after a late-term abortion.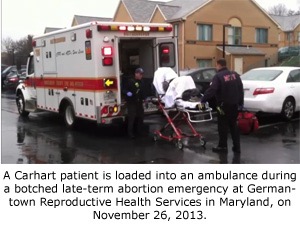 On Tuesday November 26th at 11:45 a.m., an ambulance arrived at Germantown Reproductive Health Services and loaded a women for transport to the SGH emergency room. Sources inform Operation Rescue that the women underwent emergency surgery at the hospital.
Video taken by a local pro-life activist showed a woman covered head-to-toe in a sheet and that neither Carhart nor any of his staff accompanied the injured woman from the clinic to the ambulance.
On July 9, 2013, another Carhart patient was transported to Shady Grove Hospital suffering from hemorrhaging, according to 911 records obtained by Operation Rescue which published a video showing Carhart escorting his injured patient to the ambulance.
But the most tragic incident occurred in February when 29-year old Jennifer Morbelli died after a 32-week abortion done by Carhart, who left town immediately completing the abortion and was unavailable to Morbelli as her condition worsened. Hours later, Morbelli was taken by her family to Shady Grove Hospital where she died. The Maryland Board of Physicians tragically refused to hold Carhart responsible for patient abandonment even though he has no hospital privileges and informed Morbelli to return only to the abortion clinic in the event of complications.
"We told everyone who would listen that if Carhart was not disciplined, he would injure or kill again. We take no pleasure in saying, 'We told you so,'" said Troy Newman, President of Operation Rescue. "The Maryland Board of Physicians is partially responsible for the most recent abortion injuries suffered by women who were left vulnerable by them to Carhart's shoddy practices. Late-term abortions are too dangerous to take place in outpatient clinics such as Germantown Reproductive Health Services, especially when abortionists like Carhart are incapable of providing continuity of care in the event of increasingly frequent life-threatening complications."
Germantown Reproductive Health Services' post-abortion instruction forms that were modified after Morbelli's death were obtained by Operation Rescue. The documents urge women suffering complications to contact the clinic first, even though minutes of delay can sometimes mean the difference between life and death. Patients are told to go to the hospital emergency room only as a last resort. The instructions state:
"If complications do develop, please call us first. Dr. Carhart has performed over 30,000 terminations of pregnancy in the past 15 years and finds that hospitalizations is rarely necessary to handle complications from an abortion." (Emphasis in original)
The Maryland Coalition for Life, which has partnered with Operation Rescue to expose abortion abuses, will hold a rally on Sunday, December 8 at 2pm outside Germantown Reproductive Health Services to mark 3 years since the arrival of Leroy Carhart in Maryland. The rally will memorialize the thousands of lives lost to abortion and celebrate the 125 lives that have been saved from abortion by Carhart over the past 3 years. The rally will be followed by a 1.2 mile prayer walk around the heart of Germantown.
SOURCE: Operation Rescue

Based Only on a 'Preliminary Review', Maryland Board of Physicians Closes Matter of Carhart Patient Death
Germantown, Maryland — The Maryland Board of Physicians has decided not to take action against late-term abortionist LeRoy Carhart for the death of Jennifer Morbelli, a 29-year old woman who suffered fatal complications from a very late 33-week abortion.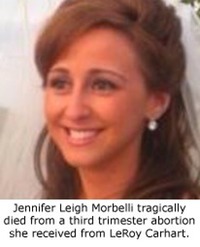 "We are horrified at the decision of the Maryland Board of Physicians to let Carhart get away scot-free with Morbelli's death," said Troy Newman, president of Operation Rescue. "The Board has failed in their duty to protect women from Carhart's dangerous abortion practices that have take the lives of two women, including that of Christin Gilbert in 2005. All the Board has done is ensure that Carhart will kill again."
A complaint was filed by Operation Rescue after it received detailed information about the patient death on February 7, 2013. That complaint prompted the Board's 8-month review. The Board notified Carhart of their decision to close the case without action in a letter dated October 10, 2013, according to the Washington Post.
According to an autopsy report, Morbelli died from Disseminated Intravascular Coagulation "due to or as a consequence of Amniotic Fluid Embolism following Medical Termination of Pregnancy," making it clear that the abortion was the event that led to her death. But it was Carhart's elusive behavior after the abortion that was most troublesome.
After Morbelli's abortion, while still appearing "weak and pale" according to witnesses, Carhart released her to return to her hotel. He then left town. As Morbelli's condition worsened, in the ensuing hours, Carhart could not be reached by family members or later by hospital emergency room staff. Operation Rescue alleged in their complaint that Carhart's conduct amounted to patient abandonment, which delayed emergency care that may have saved her life.
"This tragedy was completely avoidable and illustrates the dangers of 'fly-by-night' abortionists who come into town with no hospital privileges, do dangerous abortion procedures, then fly out immediately afterwards, leaving others to clean up their messes," said Newman. "That practice must be stopped along with the below-standard practice of inducing labor on women who are nearly term, forcing them to labor without supervision in hotel rooms, then releasing them from ill-equipped abortion clinics before they have stabilized. How the Maryland Board of Physicians can accept these dangerous and shoddy practices is cause for further concern."
SOURCE: Operation Rescue
*** MORE ***
Washington Post - Maryland Board of Physicians closes probe of abortion doctor after women's death".  This article states: 
"The Board's review included your response, patient medical records and other materials contained in the Board record," the letter said.
"Based on this review, the Board has decided to close this matter without further action."
The above indicates that the Maryland Board review of Jennifer Morbelli's death from the abortion she received from LeRoy Carhart was only a preliminary investigation, not a full investigation.
At then end of the Post article Carhart says;
"Her rare condition "would probably" have taken place even if she carried the baby to term and could have happened during pregnancy, he said."

This statement by Carhart does not comport even with Jennifer Morbelli's death certificate which states that the cause of her death was the abortion, not a fetal abnormality.

Almost Three Years in Germantown
Monday, December 10, 2012 marked two years of abortionist Leroy Carhart's presence in Germantown, Maryland (see original news report from December, 2010), where he performs 2, 3, and 4 day late term abortions (1,300 feet from a church, and 400 feet from a child care center) at 13233 Executive Park Terrace.  Women from all over the east coast, as far away as Ohio, New York and South Carolina regularly come to his office to abort their 2nd and 3rd trimester babies.  Carhart has flown to Maryland from Nebraska every week since his home state passed a "Fetal Pain Law" which outlawed abortions after 20 weeks based on evidence that unborn babies do in fact feel pain at that gestational age.
For two years, hundreds of pro life believers from many faith denominations have braved all kinds of adverse weather conditions to be voice for the voiceless and to stand as a witness to the value of human life.  They can be seen weekly on Monday mornings from 8 to 10am on Wisteria Drive praying peacefully, holding signs and waving to traffic beeping in support.  Not all the response is positive however, verbal harassment and ridicule is common from those who support a woman's right to procure an abortion, even up to the moment of birth, as the law allows here in Maryland.  
News Coverage and Videos of Germantown
Join Us Every Monday morning from 8-10am as we persevere in our witness against the killing of innocent children! Why Mondays? Because that is when the babies are killed.