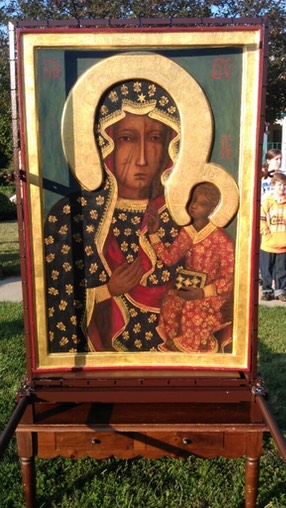 The icon of Our Lady of Czestochowa (the "Black Madonna") – a replica of the original in the Monastery of Jasna Góra in Poland, has been part of a global campaign in support of life. Starting in Russia, the Ocean to Ocean Campaign in Defense of Life is circling the globe and enkindle a sustainable movement to build a culture of life.
In its third stop in America, this magnificent replica was here in Germantown, Maryland the morning of August 26th.
After the 6:30am Mass at Mother Seton Parish, the main celebrant, Fr. Peter West, Vice President of Missions, Human Life International, led a solemn procession of the Icon to LeRoy Carhart's abortion facility, followed by a Prayer Service on the grassy knoll. 
This icon has come halfway around the world, inspiring hundreds of thousands to seek Christ, to deepen their faith, hope and love, and to defend the innocent.   More about the "Black Madonna" and the Ocean to Ocean campaign.