Monday, December 10, 2012 marked two years of abortionist Leroy Carhart's presence in Germantown, Maryland (see original TV news report from December, 2010), where he performs 2, 3, and 4 day late term abortions (1,300 feet from a church, and 400 feet from a child care center) at 13233 Executive Park Terrace.  Women from all over the east coast, as far away as Ohio, New York and South Carolina regularly come to his office to abort their 2nd and 3rd trimester babies.  Carhart has flown to Maryland from Nebraska every week since his home state passed a "Fetal Pain Law" which outlawed abortions after 20 weeks based on evidence that unborn babies do in fact feel pain at that gestational age.
For two years, hundreds of pro life believers from many faith denominations have braved all kinds of adverse weather conditions to be voice for the voiceless and to stand as a witness to the value of human life.  They can be seen weekly on Monday mornings from 8 to 10am on Wisteria Drive praying peacefully, holding signs and waving to traffic beeping in support.  Not all the response is positive however, verbal harassment and ridicule is common from those who support a woman's right to procure an abortion, even up to the moment of birth, as the law allows here in Maryland.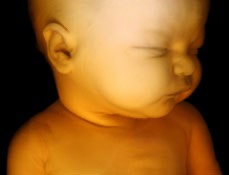 Unfortunately, it is estimated that more than 1,300 abortions have been performed during these two years, many on women clearly in the late stages of pregnancy.  But, the good news is that as the prayerful presence continued over the months following Carhart's arrival, a coordinated effort to help the women and provide alternatives to abortion has arisen from the community.  There is now a team of sidewalk counselors present in front of Carhart's office at critical times that offer help and options to women who are seeking abortions there.  Their conservative estimate is that over the last year or so, 75 women have changed their minds and kept their babies.
Germantown Pregnancy Choices (GPC) is a pro-life resource and referral office directly across the parking lot from the clinic.  It opened in April of 2011 in direct response to the late term abortion clinic. GPC is sponsored by the Maryland Coalition for Life. Staffed entirely by volunteers from local churches in the Germantown area, GPC serves the needs of women seeking assistance or information to continue their pregnancy.   
Pro-lifers on the street in Germantown have been blessed to meet and hold several of these children after they were born as their mothers brought them to visit on Monday mornings and share their gratitude that they were intercepted before going into the abortion clinic.
In addition to the regular Monday morning witnesses, Wisteria Drive has been the site of multiple 40 Days for Life events where Christians from numerous local churches pray on the sidewalk to end abortion from 6am to 12 Midnight continuously for 40 days.  This national movement has spread quickly across the globe as people of Faith respond to the call to support and stand for the Culture of Life in order to defeat the ongoing negative impact of abortion on women and families in our community. The next "40 Days" in Germantown will coincide with Lent and starts on February 13, 2013.